Welcome to Pago Pago Marine Charters
Pago Pago Marine Charters is a business run by people who enjoy being out on the water and serving the needs of visitors to the wonderful islands of American Samoa. Our charter packages include specialties in Game Fishing, Scuba Diving, Whale Watching or site seeing tours.
Pago Pago Marine Charters (PAL Inc.) operates out of Pago Pago Harbor in American Samoa, the best protected deep draft harbor in the South Pacific. Our boats can be configured for work or pleasure depending on the charter. Our sister companies, Tools, Inc. and Industrial Gases provide additional expertise and materials when it comes to work charters involving underwater welding, construction, and salvage.
In general, we provide charters for fishing, SCUBA, diving, snorkeling, island coastal excursions, trips to neighbor islands and scientific excursions.
Charters for work projects are our specialty. Our sister company, Industrial Gases, offers fabrication and welding services to help get a job done. When it comes to finding things "If its on island and we don't have it we will know where to get it"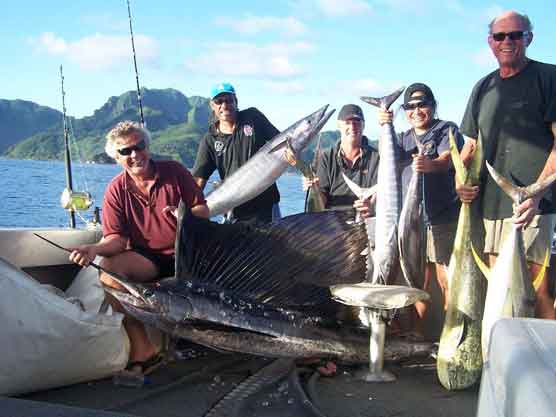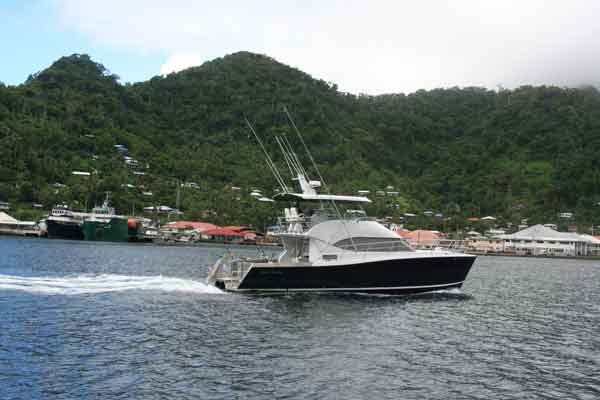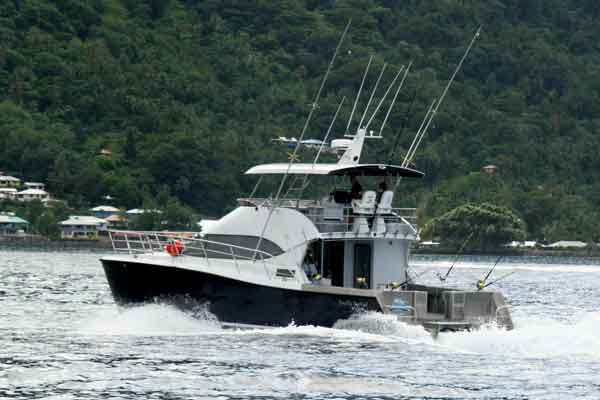 The vessel Double Hooked is a 50ft catamaran powered by two 450hp Caterpillar diesels. Top speed is 31 knots and cruising speed is 21 knots.  Learn more.
The Double Barrel is one of our most popular boats.  She is a 39ft Power Catamaran, powered by 2 x 300hp outboards, with a cruise speed of 22 knots and top speed of 36 knots.  Learn more.
Imagine being in this beautiful place on this beautiful boat catching fish and having a great time.  That can happen in Pago Pago on our world-class boats.
The fish are out there and we know where to find them.  Our sonar systems and fish finding software helps us see what's below.  And, we have all the high-quality gear to assure a catch.
Our boats are well equipped with modern safety equipment for all aboard.  There are many comfort features not typically found on fishing boats.
These pictures were taken at the National Marine Sanctuary of American Samoa.  There are many other places to dive around the main island of Tutuila as well as the Manu'a Islands, Swains Island and Rose Atoll Marine Monument.
The boats of Pago Pago Marine Charters are the only privately owned commercial vessels capable of making the long trips to Swains and Rose.  We provide charters for recreational, commercial and industrial SCUBA expeditions.
Our Captains and dive instructors are fully certified and very helpful even to the most experienced.
We have all the equipment and services needed including cylinder refill and rental, tanks and weight belts and even a hyperbaric chamber as shown below.